Treatment of Osteoradionecrosis of the Jaw with Ozone in
the Form of Oil-based Gel: 1-year follow-up
DENTAL EXTRACTION: WHAT ELSE?
Implants 2018; 1
Evaluation of Surgical Options for Supernumerary
Teeth in the Anterior Maxilla
THE POST-EXTRACTION IMMEDIATE IMPLANT. A NEW APPROACH FOR FILLING RESIDUAL BONE DEFECTS
Implants 2017; 1
MEDICATION-RELATED OSTEONECROSIS OF THE JAW (MRONJ): COMPARISON OF 5 TREATMENT GROUPS
Minerva Stomatologia 2016; June 65 . SUPPL.1.No.3.
OSTEORADIONECROSIS OF THE POSTERIOR MAXILLA: A NEW APPROACH COMBINING ERBIUM: YTTRIUM ALUMINIUM GARNET LASER AND BICHAT BULLA FLAP.
J Craniofac Surg. 2015 Oct;26(7):e627-9.
IL LASER NELLA PRATICA CLINICA: MA ALLORA SERVE DAVVERO?
Laser Tribune Italian Edition 2015
DOXYCYCLINE FLUORESCENCE-GUIDED ER:YAG LASER ABLATION COMBINED WITH ND:YAG/DIODE LASER BIOSTIMULATION FOR TREATING BISPHOSPHONATE-RELATED OSTEONECROSIS OF THE JAW
Oral Surgery, Oral Medicine, Oral Pathology, Oral Radiology, and Endodontology 2015;119(1):e6-e12
PEROXIDE HYDROGEN GEL. AN ANTISEPTIC THERAPY FOR OSTENONECROSIS OF THE JAW DUE TO BIPHOSPHONATES.
Annali di Stomatologia 2014; Suppl.2: 48
BONE AUGMENTATION WITH TIMESH. AUTOLOGOUS BONE VERSUS AUTOLOGOUS BONE AND BONE SUBSTITUTES. A SYSTEMATIC REVIEW.
Annali di stomatologia 2014; 5(2s):27-36
ODONTOGENIC MAXILLARY SINUSITIS WITH ORO-NASAL FISTULA: A CASE REPORT
Annali di stomatologia 2014; 5:37-39
RIALZO DI SENO CON ACCESSO LATERALE: CONFRONTO TRA METODICA PIEZOELETTRICA E METODICA DASKR®
Quintessenza Internazionale & JOMI 2013; 29(2):39-47
RAPPORTO TRA NERVO ALVEOLARE INFERIORE E TERZO MOLARE INFERIORE: CASI CLINICI
Italian Oral Surgery 2011; 10(3): 1-16
GLI ESPANSORI TISSUTALI: IDENTIFICAZIONE, PRINCIPI E INDICAZIONI CLINICHE
Italian Oral Surgery 2012; 11(5):14–21.
Alterazioni neurosensoriali conseguenti a prelievo osseo da sinfisi mentoniera.
Il Dentista Moderno 2011: 70-86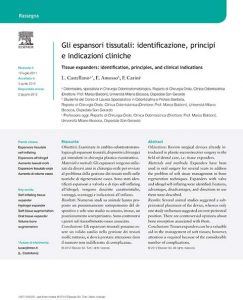 Le esostosi del cavo orale: classificazione e aspetti clinici
Italian Oral Surgery 2010; 9(5): 233-247.